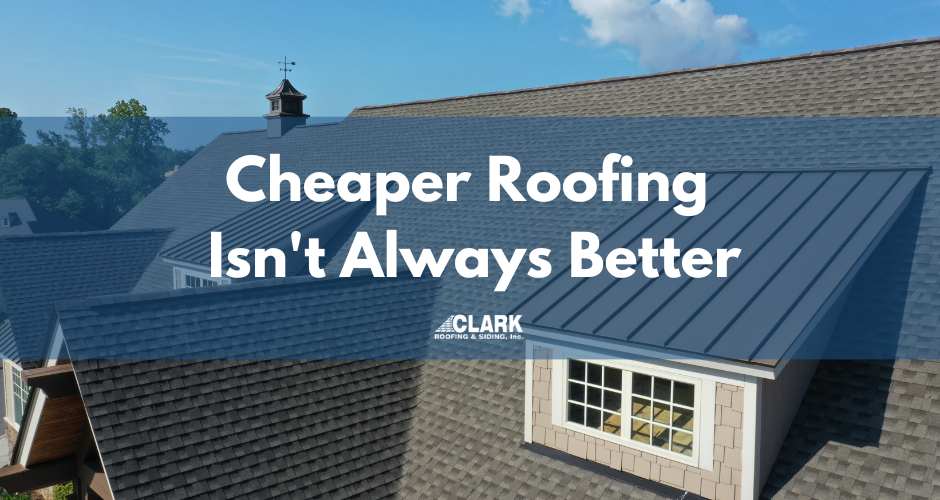 Cheaper Roofing Isn't Always Better
Have you ever driven through your neighborhood after a storm and seen signs advertising roofing companies that you can't even find in your local directory? If you look them up online, you may find their address in a different city or they may not even have an address at all. You have probably encountered a storm chaser. Storm chasers are cheap roofing companies that come into town after a major storm and offer to replace your roof for much cheaper than other local businesses.
While this may sound like a good deal, you'll probably change your mind when you start to run into trouble. Maybe your roof will get damaged or start leaking after the first minor storm. Or maybe your roof will fail its inspection if you try to sell your property in the next few years. You may even have to have your roof replaced in less than 10 years, making any money that you invested into the original replacement seem like wasted funds. At Clark Roofing & Siding Inc., we know that a higher quality roof will cost more upfront, but will be much more affordable in the long run. 
To schedule a free no-obligation estimate for your roofing replacement, call Clark Roofing & Siding Inc. today at (757) 485-1000.
Quality Roofing Services in Chesapeake, VA
Roof replacement cost can be intimidating for many people. After all, there aren't many home improvements that cost as much. But when you consider the importance that your roof has in protecting your home, you'll find that it's worth investing more money into it. We hope to make the case for quality roofing services in Chesapeake, VA because we want homeowners in the area to be able to benefit from a dependable roof that lasts for 25 years or more with minimal need for repairs. 
Why Shopping for a Roof is Different
If you are used to shopping for a bargain, you may be thinking about a roof in the same way. For example, when you're shopping for groceries, you may be able to find organic eggs for $2.99 a dozen in one store when they are $4.99 everywhere else. While there shouldn't be much difference in the quality of the organic eggs from two different stores, buying a cheap roof is like spending twice as much for a case of cracked and rotten eggs. That's because cheap roofs don't end up being cheaper in the end. 
Cheaper Isn't Always Better
When you see roofing services that are thousands of dollars cheaper than other local businesses, it's right to suspect that there is something not quite right about the company. They may have a history of starting a project and then leaving it partially unfinished once they've reached the customer's budget. They may use materials that are so low in quality that they can hardly keep out the rain. Finally, they might rush through the job leaving shingles poorly secured and gaps where the rain can sneak through. 
When you shop for a quality roofing experience instead of a cheap one, you will end up with a product that will save you money in the long run. A cheap roof won't do your budget any favors because of expensive leaks and replacements that are needed 15 years early. But a quality roof will continue protecting your home and keeping your possessions dry for years to come. 
If you are looking for quality roofing services in Chesapeake, VA, call our experienced roofers at Clark Roofing & Siding Inc. today. Our number is (757) 485-1000. 
Why Are Quality Roof Materials Important? 
Every roof installation starts by selecting the materials that the roof will be crafted from. Even if you decide to choose a less expensive material such as asphalt shingles, you'll still want to be careful to select shingles that are well-constructed and built to withstand the weather in Chesapeake. Instead of choosing 3-tab asphalt shingles that only last for 25 years under perfect conditions, you might want to select luxury asphalt shingles that perform better and last almost twice as long with regular maintenance.
Higher quality roof materials can also be easier to maintain, can stand up against more types of weather, and may even give you a discount from your insurance company. Metal roofs are an excellent choice when installed correctly because they are more resistant to hail, fire, and wind. 
Why Is a Quality Installation Important? 
Even 3-tab asphalt shingles will last longer when installed correctly than a poorly installed metal roof. When you choose services with a higher roof replacement cost, you're paying for quality roofers to come and meticulously install every shingle. Quality roofing is the product of years of experience mixed with the integrity and compassion that puts your best interest at heart. 
How Can You Afford a Quality Roof? 
If you are comparing quotes from cheap roofing companies and quality roofing companies, you may also be looking at your savings account and thinking that you have no choice but to go with the cheaper option. But there are ways that you can still get the quality you deserve.  
Insurance May Be an Option
Many roof replacement services are covered by insurance. While this isn't the case in every circumstance, it is always worth checking. Most insurance companies prefer quality roof replacements because they know the long-term value of a good roof. On your end, the deductible will be the same whether you go with a cheap roofer or someone more reliable.
Financing Your Roof Replacement
If insurance isn't an option, you can look into financing your roof replacement. With financing, you can have a quality roof put on your home and then choose a monthly payment plan that works for you. Financing is flexible, allowing you to pay it off quickly or slowly, and you can pay off the full amount at any time without being penalized. 
Choosing Quality Roofing Services in Chesapeake, VA
Having your roof replaced is always a major project. It can be difficult to sort through all of the conflicting information that you might find while researching replacement services. Rather than going with the lowest bid, we recommend finding a company that has a strong reputation in the community for honest and quality roofing services in Chesapeake, VA.
We want you to have a quality roofing experience with us, every time. To find out more information about our excellent roofing installations at Clark Roofing & Siding Inc., contact us at (757) 485-1000 today.