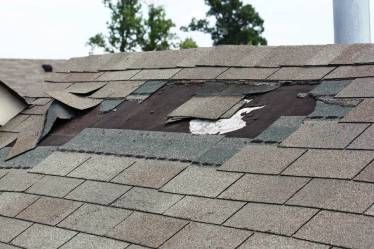 Beware of These Roof Issues When You're Buying a New Home
A roof is one of the most costly components of a house. When acquiring a new house, it's critical to confirm that the roof is in good working order before moving forward. When you visit the home during the walk-through part of the inspection, make sure to ask detailed questions about the roof. 
If your new home's roof requires repair or replacement, you should be aware of this ahead of time and incorporate it into your home's purchase price. Clark Roofing and Siding is here to help you along the way! When you're considering the purchase of a new house, there are a few essential things to look into and questions to ask.
Roof Cracks and Roof Leaks
Check for existing roof cracks or leaks and any indicators of possible roof leaks when purchasing a new property. This may look like moisture, cracks in the roof, or damaged wood. 
Yellow or off-colored patches on a ceiling, stains or brown spots on molding or at the top of a wall, stains or brown marks on molding or the top of a wall, and water damage are all signs you may need the help of a professional like Clark Roofing & Siding. 
Old Age or Extensive Wear
When buying a house, you should check how old the roof is. Since the age of a roof does not necessarily indicate its quality, this initial step should include more than simply asking your real estate agent, "How old is this roof?" Instead, you need to consider the roof's age with respect to its general condition. 
Examine the roof from a safe distance away from the house. Is the roof clear of mold? You can check this by looking for bubbles, bulges, and curled edges. It's also a good idea to look for missing shingles or any worn-out areas. Wear and tear happens quicker in some states and regions than in others.
Depending on the materials used to construct the roof, it can endure up to 50 years. Certain things like local weather can lower that number. For example, if the house is in a hurricane zone in Florida, it may be suitable for ten years. 
Blocked Gutters 
Having blocked gutters is a time-sensitive issue you should address as soon as possible before it becomes a problem. Talk with a roofer at Clark about any debris in the gutters. If there is, it indicates that water is backing up and entering the roof through the gutters. Water is not directed away from the roof, which poses difficulties over time.
Call a Professional
When you're shopping for a house to buy, make sure to keep an eye out for these roofing issues. If anything does come up, our team will be able to meet your roofing needs by providing expertise, comprehensive work, all at a reasonable price. 
We're happy to offer discount pricing, military discounts, and material warranties with all of our work. Prepare ahead of time, avoid frequent blunders, and allow us to be just one part of your home-buying journey!